Virtual Classroom BigBlueButton
Audio/video communication and collaboration with the open source solution BigBlueButton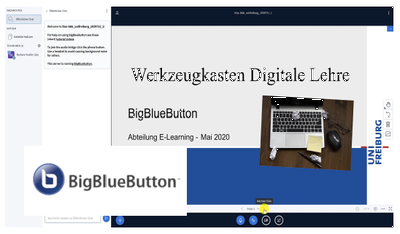 With a valid university account as an employee*, you can set up your own virtual meeting room, which you can use independently with moderation rights.

Organizers, participants, and external guests - who can be invited to the meeting room at any time - only need a broadband Internet connection, a current browser, a headset, and (if desired) a webcam for video transmission. The installation of a client is not required. Use with Firefox or Google Chrome is recommended.


Functions and advantages at a glance
Audio / video communication and chat. Communicate in real time via your headset, webcam, and text chat.
Share documents. Upload your PowerPoint presentation (as a PDF), other PDF files, or links to external video files to the online meeting room and share and discuss them with other participants.
Screen sharing. Show others your entire screen content, a section, or a specific program/window on your computer.
 Collaborate. Collaborative tools such as the whiteboard allow you to work on content simultaneously - both in plenary sessions and in virtual workgroups (breakout groups).
Mobile meeting participation. Users can also participate in meetings on the move via a browser on a tablet or smartphone.
Technical requirements, first steps and support
 Internet connection (DSL, 16 Mbit recommended)
current browser (Firefox or Chrome recommended)
all operating systems are supported
headset and WebCam
Quick guide:
From there you can create and manage your own rooms and generate invitation links.
When creating a room, you will be asked whether participants should be muted when entering, whether every participant can start the meeting and which rights participants should have.
You can add a room access code and a waiting room for arriving participants to BigBlueButton meetings.
Send the link to the meeting to your participants, they enter a name or pseudonym when entering the room, under which they are then displayed in the room.
Would you like to conduct an online session?
We have compiled information on the technical requirements, preparation for your first meeting, and help with technical difficulties for you on our BigBlueButton page in the "Digital Teaching Toolbox".
Integration into ILIAS Meeting rooms can also be integrated into any courses and groups and managed via the learning platform.
Contact
Please contact us if you have any questions:
onlinemeetings@rz.uni-freiburg.de, 0761 203 4600
Privacy information
Please read our Datenschutzinformation before using BigBlueButton.